Regardless of whether you only have a couple of weeks as a tourist in Australia, or you have a full year on the working holiday visa, having a strategy will make all the difference. Everything from your flight tickets to your destinations and accommodation should be carefully considered in order to make the best use of your time and your resources. Here is what we had in mind for you.
Getting there cheap
There is no real way of getting a cheap flight to Australia, but rather a more affordable one. The prices of plane tickets are usually north of $1000. They depend on your departure time and the deal you get. Plan this holiday far ahead and make booking the flight your first item on the to-do list. Keep your eye out for any special offers. The destination of your flight should depend on the amount of time you have available and the route you plan on taking. If you are planning on making a trip around entire Australia, it probably does not matter where you land, you can always reorganize your route and fly into whichever airport is the closest and the cheapest.
Once you get there
You need to determine where you will be heading to once you set foot on the Australian ground. The accommodation offer is quite versatile. Wherever you go you will be able to find something which suits your style of travelling. Booking accommodation ahead will ensure the best price, availability, and a place you can go straight to and shake off the jet lag. Also, hopefully, you have bought an outright phone you can use with an Australian SIM card.
Finding a job
If you are on a working holiday visa, you are entitled to 6 months of work, so you need to open a bank account, get a tax file number, and a Medicare card for your healthcare. You can browse the newspaper ads for jobs. Alternatively, and perhaps more suitably, look them up online. There are plenty of websites to check out, including jobs4travellers.com.au, backpackerjobboard.com.au, TNT jobs, and Network Nursing Agency.
The urban areas you want to visit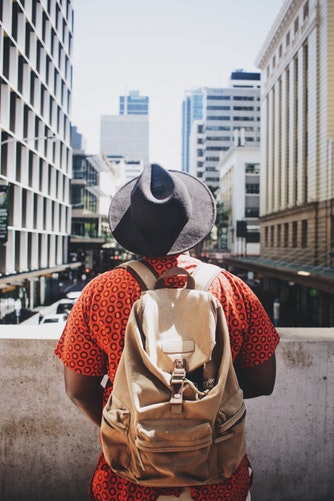 If you plan on visiting all six states, as well as the ACT, the logical choice is to visit their capitals. Each city has a unique spirit and offers a typical city-break, plus many more opportunities for exploration. These vast urban areas are all surrounded by natural beauties and most of them have a local national park. They are rich in culture, art, sporting events, history, nature, and wildlife. Apart from the capitals, there are many other urban areas you want to see. Some suggestions of the places you can visit when you are in the area are Albany, WA; Ballarat and Geelong, VIC; Newcastle NSW; Coffs Harbour and Cairns QLD
Nature and wildlife
Australia offers a full package; however, its nature is the truly stunning part of it and the reason you should carry a backpack rather than a suitcase.  It is quite certain that Australia offers some of the most exciting walking tours in the world. The number of tracks and trails, as well as the variety of the terrain types, is simply incredible. You can walk a red desert, drink from frisky springs in rainforests, jump from cliffs and into the ocean, dive into beautiful coral reefs, or climb mountain tops covered in snow. When thinking about a walking holiday consider
Margaret River region and Bibbulmun Track in WA,

The Top End and the Katherine in NT,

Springbrook, Lamington, and Great Sandy National Parks all located in QLD,

The Royal National Park and Mount Gower in NSW, do

the Centenary Trail in the ACT,

the Kangaroo Island Wilderness Trail in SA, and

walk across entire Tasmania if you can, but definitely, do not miss the Mount Field National Park.
A lot of these trails are also available for cycling. Planning prior to your trip can save you a lot of time and money. However, this is not where your planning should end. Planning your every day including meals and transportation will save you a lot and allow you to splurge where it really matters. You do not want to miss out on opportunities to visit the beautiful sights Australia has to offer as this is probably a once-in-a-lifetime experience.
(Visited 213 times, 1 visits today)