Getting hitched in the winter is magical: there's the sparkling snow, glimmering ice and that little chill gives everyone naturally rosy cheeks. These aesthetic merits are only a few of the reasons many people prefer winter nuptials. Another huge perk of getting wed in the winter is the lack of ambiguity about the weather. You know what it's going to be like: cold. You don't have to wonder and worry about elemental conditions, and as such, you can plan with confidence from the start.
One of the big considerations is, of course, the dress. A winter wedding allows you to play with accessories more than any other seasonal option. We're talking stolls and muffs and capes and hats and gloves. We're talking about being able to create even more looks for your big day  — and you should create as many as you can. This is a once in a lifetime event, after all (or you're hoping it will be, right?).
So, let's get down to looking at the best dress styles for a winter wedding. Your options are probably more varied than you think!
Cold-Shoulder, Hot Look
Here's a stunning style that allows you to emit cool sophistication (and a tasteful bit of sexiness) while still allowing you to stay warm. Off-the-shoulder gowns are some of the most breathtaking winter wedding dresses, since they allow you to show some skin, while keeping your arms warm.
Within this single style, you are spoiled by choice in terms of fit and design. You can opt for a full sleeve, half sleeve or even short sleeve. You can also choose a fabric that suits your vision for your big day. Lace never goes amiss, and a satin is the stuff winter wedding dreams are made of.
You also have a lot of choice in terms of skirt style. A mermaid gown will look stunning if you have an hourglass or inverted triangle figure. A flowing A-line is ideal if you are pear-shaped, rectangle shaped or apple shaped.
High-Neck, High Class
Grace Kelly owned her high-neck wedding dress, and you can too. This style is universally classic and flattering, and  — contrary to some belief — not intrinsically prudish or dull. Just look at the high neck wedding dresses from Alamour the Label  — dresses like this one: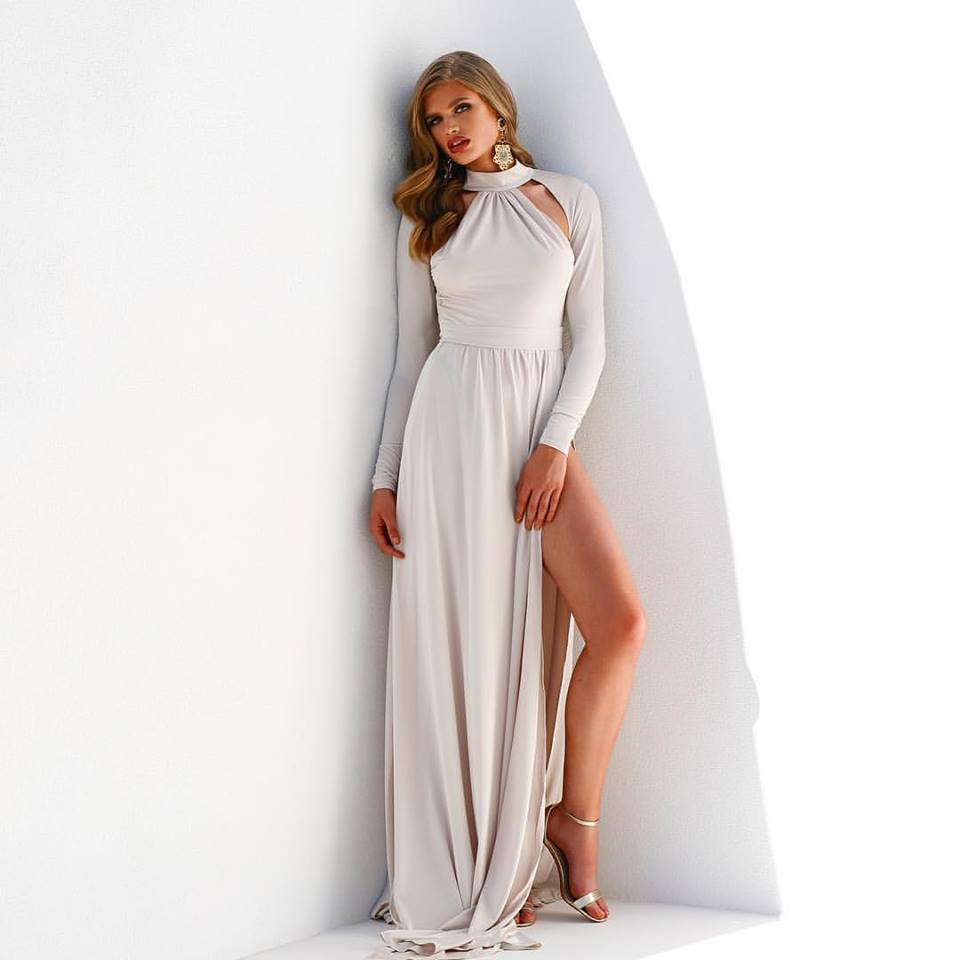 You'd be hard-pressed to find a bride who would not look absolutely beautiful in this dress. The halter neckline is high, but the faux-shrug design gives a hint of skin, while the long-sleeves keep your arms warm.
The waistline is falls at your natural waist, which is about two inches higher than your belly button and is actually the smallest part of your torso. By drawing the eye toward this slimming focal point, the dress creates an endless flattering silhouette.
Combine these styles with a faux-fur stole, or a velvet cape and a pair of blinged-out white leather ankle boots for some prime pictures outdoors, and you've got winter wedding style that's as timeless as your love.
(Visited 685 times, 1 visits today)